Starting off the trip without your board bag is always interesting. After talking with the airlines, locating my bag, and confirming that it can be forwarded I felt free to leave Anchorage and make my way to Valdez. I had arrived at 1am so we start the 6hr drive, go as far as we can, which doesn't amount to much and set up a quick camp to sleep for the night. In my board bag was a piece of security that I travel with, my winter sleeping bag. Without it, and tired enough to sleep just about anywhere, I decide it's time to test out my bivy to see what it's like to spend a night with it. I put on a pair down pants, a jacket, and a thinner down wrapped around my feet and get into the bivy. Gaining a lot of trust in my bivy, I surprised myself and slept 7 hours and was ready to take on whatever else would come my way for the next 10 days!

We had heard the weather had been bad for the last month in Valdez and up at Thompson Pass. Some of our friends had been there for the last month and only been able to really get out once or twice because of a high ceiling of gray clouds combined with mid layer of foggy clouds that had been sticking around. We woke up to a clearing storm that had left an inch of snow so we quickly packed up camp and started driving to Valdez, a little stressed that we could be missing a blue day. The thing about blue days in AK that is different from blue days at our home mountains during the season is that is has to be clear to really get after it. The areas we ride are mostly glaciated and all above tree line. On a flat light day you find yourself borderline vertigo, trying to ride without knowing how fast you are moving, where rollovers are or, more importantly, where dips (crevasses) are, making it dangerous. I get a weird, anxious, guilty, feeling when I choose not to go out when the light is mediocre, because during most of the season, you can almost always find something to ride. One thing a friend of mine told me about this feeling is that once you've been out on a good blue day there's nothing like it, it makes working so hard to make a gray day good, pathetic. When you force it, it just doesn't work out, going with the flow of what the weather and mountains are allowing you to do, is important everywhere and magnified in AK.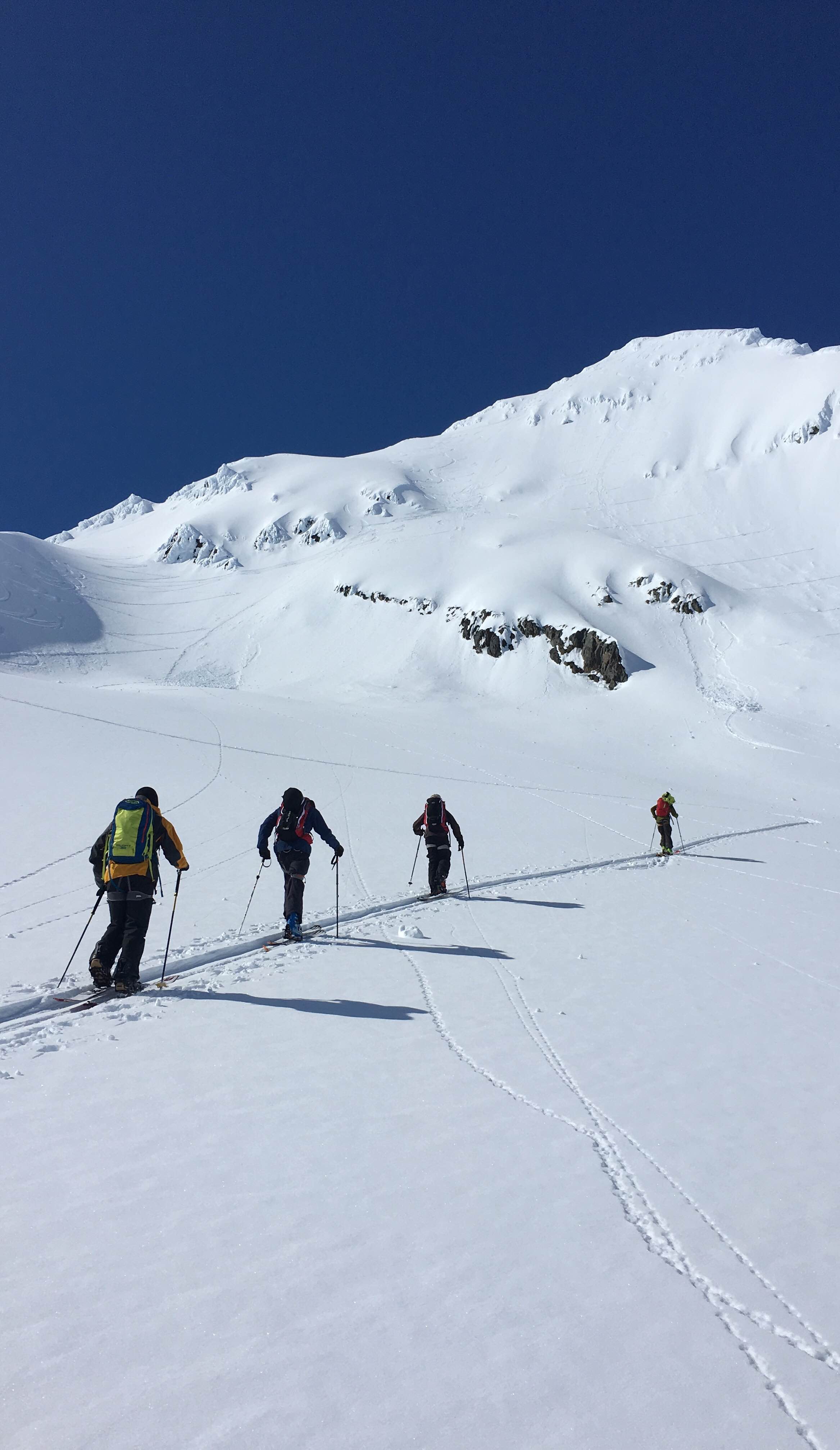 After checking a couple times at the small airport in Valdez, my bags finally arrive. The day they arrive, is gray, down day, but the next day is full throttle. I rented a sled that morning from a friend who had to work and went out deep, to the Tonsina Glacier. One of the cirques that was an option already had a crew doing sled laps so we went to the next cirque down the glacier and it did not disappoint. We started off by testing the snow on a couple mellow runs that we could shuttle. It looked variable but ended up being stable and pretty consistent, so the game was on. Boot packed a few spiney lines, and a couloir which would fill up a normal winter day, but spring in AK the sun doesn't set until around 9pm. These full days make me appreciate the long days in the winter that prepare me to be able to make the most out of my Ak trip. Everyone in the crew was worked well before sunset, a couple of us mustered up enough energy to hike one more then we all decide we made the most of the day and it's time to head back to the pass.

On the Pass there are a few different plowed parking areas littered with RVs and camp set ups. The one public restroom on the pass is located in the Worthington Glacier parking lot, spots there fill up quick and stay occupied for the majority of the spring. Although the restroom is heavily used and not very maintained, for what it's worth, this lot is on pavement rather than mud. One of the longest lots is the Tailgate AK lot, a purchased ticket to the festival is necessary to park there and use the porta-potties, but it also includes activities, some meals, and a heated weather port (big tent) to hang in where they host a few parties during the week of Tailgate. Next to Tailgate is the Alaska Snowboard Guides lot where RV parking is free for clients flying with ASG. ASG has a heated tent, porta-potties and you'll the infamous Magpies on the Fly coffee house/home cooked food car, open to the public for April morning to dark! Across the highway from those is what I have heard been called the 'One Love' lot, just the basics here, if you can get a spot, keep it because of the great location, and it's free but you do have to pack your poop.

The parking lot was silent by dark after that first big blue day, then surprisingly was followed by another one that held up until about5pm. I was worked from the day before but fortunate enough to get a seat on a Heli with ASG for a few runs and get a bird's perspective of the giant playground. My adrenaline rushed as the helicopter started to float with the rumbling blades, I wasn't tired anymore! 4 runs later I had a permagrin and high like a walked dog.

Toward the middle of April the two classic annual events kick off and untraditionally overlap dates, The Kite Festival and The Hill Climb. Jennie Milton hosted a women's beginner kite clinic that I joined. The clinic had a great turnout of 11 women, a partly cloudy day with around 5-10 kts of southwesterly winds. Jennie's experience teaching shined when everyone was kiting around doing the basics by the end of the clinic. The Hill Climb came in heavy with a mile of RVs along both sides of the road and of course their loud toys. The outstanding weather on this weekend couldn't have worked out better for the events, getting the climb done on schedule, and leaving as fast as they came in.

My last blue day up at Thompson Pass was a touring day. The skyline looking west from the ASG and Tailgate parking lot is a classic tour for the area that I had yet to do and was excited to execute. It's a link up of a couple different tours, up Loveland to Tones Temple then over the 27 mile glacier to Sapphire peak. I set out with my friend Miles and happen to catch up with another group of riders, one of which I knew from Tahoe when I lived there, they had the same tour plan for the day so we joined forces. Both Tones and Sapphire were mostly wind scoured with a few hundred feet of blower in the protected spots, but our exit, on the Worthington glacier was pristine, an optimal way to wrap up my trip.

Just getting to Ak is the hard part, but once you have had a couple of good days riding it's worth a month of powder days back home and has a more than a lifetime of possibilities.